Description
The Power of Beef Brought to a New Level
23g beef protein per serving
Beef Protein Doesn't Have To Be Inconvenient
Anyone who's spent any time trying to build quality muscle knows that beef is the one protein source above all others for producing the best gains. The main problems with beef consumption are the cost, convenience, and unless you're spending more on high-quality, grass-fed beef, it can also be high in saturated fat and cholesterol.
Keeping a premium source of beef protein in your diet doesn't have to mean keeping a fridge full of lean-cut steaks, however…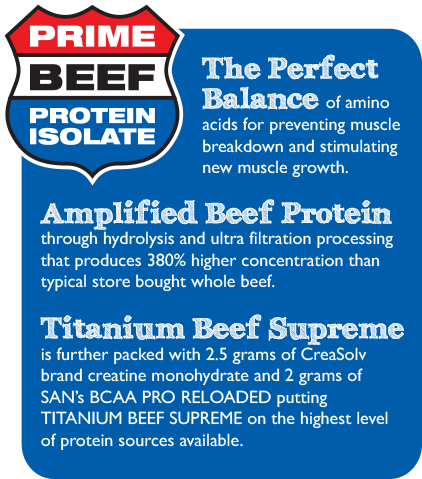 Lean Beef Improves Post-Exercise Protein Synthesis
The essential amino acid profile in beef protein is similar to that of human muscle tissue, so it provides the perfect balance for preventing muscle breakdown and stimulating new muscle growth. Supplemental beef protein gives you all the acclaimed muscle-building benefits of beef without the high costs and without the adverse effects commonly associated with high meat consumption.
TITANIUM BEEF SUPREME is amplified beef protein. It's 380% more concentrated than your typical store bought whole food beef ([USDA.gov Guidlines], rib eye, small end [ribs 10-12], separable lean, and cuts trimmed to "zero" fat, choice, raw). This premium quality and purity is a result of SAN's own hydrolysis and ultra filtration processing which assures that you get all of the critical nutrients and amino acids sought after from beef, in a highly concentrated form.
SAN's TITANIUM BEEF Supreme contains a whopping 23 grams of hydrolyzed beef isolate protein (97%) along with 2.5 grams of creatine monohydrate and 2 grams of additional BCAAs per serving. In comparison, 34 grams of pure, raw ribeye steak has about 5.95 grams of protein and 7.51 grams of total fat.¹
Turning a good protein source into a great one means raising the bar, and TITANIUM BEEF Supreme does exactly that. With the addition of 2.5 grams of CreaSolv creatine monohydrate and 2 grams of SAN's exclusive BCAA Pro Reloaded, TITANIUM BEEF Supreme is one of the highest quality beef protein sources available.
TITANIUM BEEF Supreme delivers all the muscle-building potential of beef and none of the drawbacks, plus a unique combination of ingredients that create a highly amplified protein source.
Click To Enlarge